Perfecting Your Dog's Sit Stay with Vimtag Camera
Most responsible dog owners take the time to train their dogs to be well behaved and respectful in the house and out in the public. The training generally consists of teaching a dog certain commands or sometimes it focuses on behaviour modification to "unteach" the dog a bad habit.
Most of the obedience exercises and commands are based on the formal American Kennel Club Obedience. The AKC holds obedience trials to: "demonstrate the dog's ability to follow specified routines in the obedience ring and emphasize the usefulness of the dog as a companion to humankind.  The objective of obedience trials is to recognize dogs that have been trained to behave in the home, in public places, and in the presence of other dogs"
The trials are divided into 3 categories:
The Novice class demonstrates good canine companion skills such as heeling, both with and without a leash, coming when called, standing for a simple physical examination, and staying in both a sit and a down position with a group of dogs.
The Open class is more challenging as more exercises are done off leash and retrieving and jumping challenges are added.
The Utility class, which includes scent discrimination, directed retrieves, jumping and silent signal exercises, is the most challenging class.
Even though Rocco and I don't compete in formal obedience trials, I still like to practice the exercises required for each group. It's an excellent way to hone your handling skills, keep your dog on top of his obedience training, ward off boredom and keep their brains sharp. It's also a great way to bond with your dog as you work together towards a goal.
We have our Novice routine down pat and we have our Open routine down for the most part, except for one item that has been giving us trouble:
Long Sit (3 minutes) — similar to the long sit in Novice, but the position must be held for a longer period of time with the handler out of the dog's sight.
The exercise requires that the handler be out of sight, but when it's just you and your dog, practicing can be a challenge. Usually after a minute or so Rocco gets bored, gets up and goes to sleep on his bed….
I tried using a strategically placed mirror, only to have him stare back at me in the mirror….not quite out of sight!
The Vimtag security monitoring camera has brought our training to a whole new level. I can be truly out of sight and see when Rocco tries to break his stay. The two way microphone let's me either praise him for a good stay or correct him when he tries to wonder off.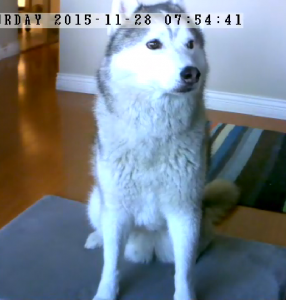 After we nailed the 3 minute exercise I decided yo up the ante and got for a 5 min sit stay.