A Few Words on Trust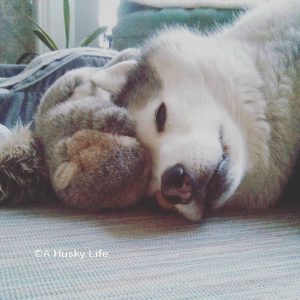 Yesterday was a tough day. Rocco had to go through an EKG test and a cardiac ultrasound as his blood work showed some issues with his heart.
I dropped him off at the vet and an hour later got a phone call letting me know he's being difficult and they will be sedating him. I see sedation as the last possible resort and I asked to be there so that I could help with keeping him calm. My request was met with quite a bit of resistance; 90% of dogs are worse with the owners around – I've been informed. I don't know about the statistics but I do know about MY dog.
When Rocco saw me walk into the room, his energy shifted right away. He was no longer vibrating from anxiety and his whale eyes focus on my face rather than darting around the room, panicky, trying to plan an escape route.
His body tensed as we lifted him on the table, but as I talked to him he rested his head on my arm, leaned into me and relaxed.
Someone made a comment about how more dog owners need to be alpha. I wasn't there to have a discussion, so I let the comment go. But I feel that it needs to be voiced: I wasn't alpha. I wasn't coercing, bribing or even depending on prior training. This was all new and scary. I was fully relying on the relationship I have with my dog and on his trust.
He suspended his instinctual desire to fight or flee and leaned into my arm out of trust.
Once the radiologist was finished, we put him on the ground and he had a big smile on his face and a spark to his eyes "we did it!" he was saying. He didn't understand why, but he knew it was important and he was happy and relieved that we did it. Together.
I'm not a dog trainer and don't feel equipped to discuss training methods. But if there is one thing I've learned working and living with dogs is that without trust we're just fooling ourselves. We are fooling ourselves about the kind of relationship we have with our dogs.
Fear, bribes, conditioning are all powerful tools, but there will always be something that will be able to override those. So we need to have full faith that when it really matters, when it's truly important our dogs can lean into us and trust.