Do Huskies Like to Dig?
I will let Rocco answer that questions for us…
Yes! Huskies love to dig. They will dig in the snow, sand, dirt, grass, carpet…even in water, any surface is fair game for their powerful feet to dig into. So the question becomes:
Why Do Huskies Dig?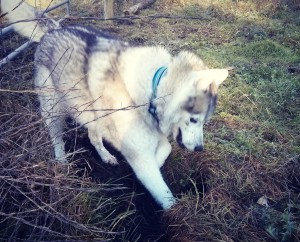 Digging is very deeply encoded into the husky genetic make up. Digging is a survival trait, which, just like their prey drive and uncanny sense of direction, allowed them to survive the harsh Siberian environment. As many other dogs they also dig because of boredom or to escape the yard, but for a Husky digging is a deeply ingrained survival mechanism.
Reasons Huskies Dig:
To stay warm: they will dig a small den in the snow, so that the snow insulates them from freezing temperatures.
To stay cool:  In the summer they will remove the top layer of soil exposing moist and cool dirt.They curl up in a small depression with the cooler soil providing them with relief from the heat.
To find food: Huskies have a very strong prey drive and they will dig to uncover potential prey (rodents, rabbits, etc.), they also forage for roots and plant material which were part of their ancestors diet.
To Hide Items: like most dogs, huskies also dog to bury valuable items.
How To Stop Huskies from Digging?
This is why research before buying or adopting a dog is so important. If having a pristine garden is high on your priority list, then a Husky is definitely not a good fit. Digging no longer serves the survival function as it once did, nevertheless, it is a instinctual behaviour that is very difficult to completely eliminate. Just as running, digging gives them joy and fulfills an inherent need.
The potential damage to the garden, or even home!, can be greatly minimized by providing a designated digging area for your husky and teaching them to use it.