PET ARNICURE – Arnica for Muscular Soreness in Dogs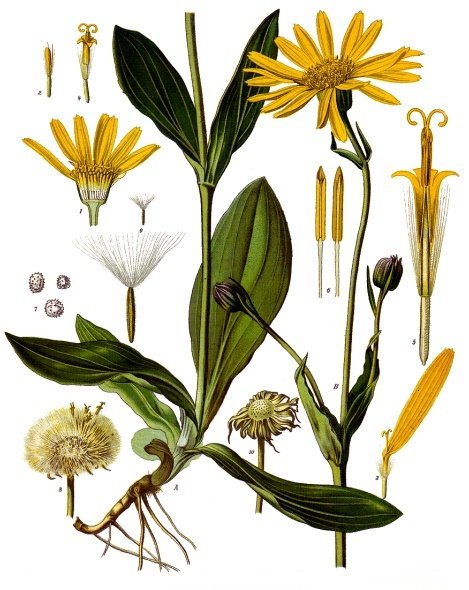 Arnica montana is a perennial herb  native to the high elevations of  the temperate Northern  regions of Europe.
Arnica has been known and widely used for its medicinal qualities since the 1500s. Applied to the skin as a cream, ointment, liniment, salve, or tincture, arnica  can be used to soothe muscle aches, reduce inflammation, and heal wounds. It is also commonly used for injuries, such as sprains and bruises.
How Does Arnica Work?
The herb contains a compound that is composed of a lactone named Helenalin, the natural form of anti-inflammatory ibuprofen. It inhibits the body's reaction that causes inflammation and pain. Proteins & sesquiterpene lactones are active ingredients that trigger anti-inflammatory action at the cellular level and promote increased blood flow to speed healing times by over 30%.
What Does Arnica Treat?
Arnica is widely used to treat bruises, sprains, soreness and swelling/muscle spasms from sports activity; arthritis set off by seasonal change; general muscle and joint pain. It is perfect for active and athletic dogs as well as seniors dealing with arthritic pain.
Are There Contraindications?
As an herb, arnica is usually used topically as it contains the toxin helenalin and can cause gastrointestinal uspset or even bleeding if injected in large concentration. Never apply arnica in any form on broken skin or on an open wound. Never take arnica internally unless it's in the form of homeopathic pills. Oral homeopathic remedies contain trace amounts of arnica that is not considered dangerous. Occasionally, it can trigger an allergic reaction in the form of a mild rash.
PET ARNICURE
PET ARNICURE is a product developed with our furry companions in mind. The easy to use spray applicator helps apply the tincture directly to the affected area, without creating mess or residue.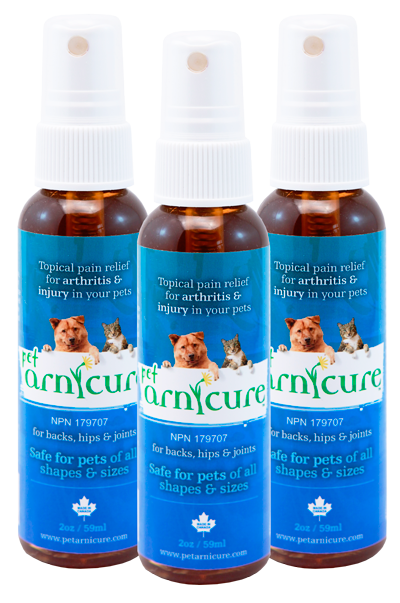 Directions & Dosage: Simply spray under the hair, let evaporate and the pet should feel relief within minutes.  Spray on each bruise, inflammation or joint where arthritis occurs, or on sore muscles up to 4 times per day:
XS (1-20lbs) – 1 spray
S   (21-40lbs) – 2 sprays
M  (41-65lbs) – 3 sprays
L   (65lbs & up) – 4 sprays
Non-medicinal ingredients: pure pharmaceutical grade ethyl alcohol, distilled water.
GIVEAWAY:
Enter the giveaway for a bottle of Arnicure by leaving a comment below and letting us know how your pet could benefit from Pet Arnicure. One lucky reader will be selected on Friday, March 25th at 12am PST.
And the winner of Pet Arnicure giveaway is Nichole! Congratulations, Nichole! I will contact you later today for your mailing address.