Vimtag Security Camera Keeps an Eye on Rats
Jasmine, the winner of our Vimtag Security Camera giveaway, is a guardian to two pet rats, Henderson and Twyla, and a blogger at About Pet Rats.  Her blog is full of information about properly caring for pet rats: housing, nutrition, grooming, mental stimulation. It also has pictures and videos of the adorable Henderson and Twyla, of course.
Jasmine has been extremely pleased with the Vimtag Security Camera as it helps her keep an eye on and better monitor the daily activities of her companions.
Here's what she has to say: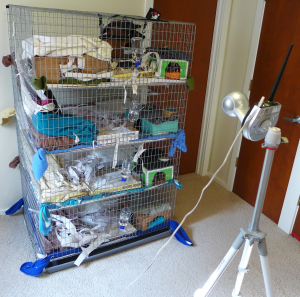 My pet rats have a four-story cage that's bigger than a refrigerator and it's downstairs​​.
I work as much as possible in the room they're in but, obviously, I can't be there all the time. Thanks to the camera, I can now check on them while I'm upstairs and see if they're awake and ready for some play time.
The two features I like most are:
    Having a camera that swivels in all directions is so helpful. If this camera wasn't able to move in so many directions, I wouldn't be able to see my entire cage. Because of its capabilities, I'm able to scan up and down and view each floor of the cage.
The quality of the image is excellent—-even though I'm checking on pets who are tiny in size, I can still see them quite clearly as they move about their cage.
If they thought I was at their beck and call before….I'm even more so now with the aid of the camera. I can see how helpful it will be for when I have a sick rat and for when I'm introducing new rats to one another.
Winning this camera has opened up a whole new world of possibilities and enjoyment of living with my pet rats.
And here's a cute video Henderson and Twyla at play. Be sure to visit Jasmine's site if you would like to learn about pet rats and the proper care they require.