Churpi Durka: Mineral Rich Dog Chew
This summer Rocco and I enjoyed quite a few outdoor pet festivals, both as exhibitors and spectators. It's one of the highlights of our summer: meeting new people, dogs and, of course, learning about new local pet businesses and products.
Rocco has a few favourite vendors that he's always excited to see since they spoil him with a delicious selection of snacks, but as excited as he is, he always minds his manners. Well, I was in for quite the surprise (and embarrassment…) when he pulled me along, jumped up on a table and stole a chew from a display basket on a vendor's table!
Turns our the table belonged to Churpi Durka who sells chews made out of organic Himalayan yak milk. After apologizing profusely and wrestling the chew out of Rocco's mouth, I spent some time talking to the lovely owners and artisans behind the chews.
As it turns out the chews are not only a hit with dogs, but they are:
Completely natural, completely organic, completely nutritious -Yak milk has a superior nutritional profile that is more adapted to the biological needs of your dog than cows milk; there is no salt or lime juice added to Churpi Durka are made of 100% organic  grass fed yak milk – nothing else. As a dental chew it is excellent at removing plaque and tartar and keeping gums strong. Nutritionally it is loaded with amino acids,  antioxidants, vitamins and minerals. Virtually lactose free, gluten free and grain free.
Nutrients galore – Churpi Durka has all 10 essential amino acids required by your dog, contains a balanced ratio of omega 3-omega 6 fatty acids and is loaded with antioxidants.
A wide variety of Vitamins and Minerals – an excellent source of Calcium, Phosphorus, Magnesium, Zinc, Vitamin A, Vitamin D, Vitamin E, all the B's (the list goes on; Beta Carotene, Retinol)…..Churpi Durka is loaded with all the natural vitamins and minerals your dog needs for healthy growth.
High in Glutamic Acid – which converts into glutamine. Glutamine is a very important amino acid as it aids in the regeneration of cells thus being critical in healing and wound repair; glutamine is quickly depleted during high periods of exercise, stress, surgeries or illnesses such as cancer.  Glutamine also helps with intestinal issues as it helps repair the cell lining of the intestinal tract.
Dental Benefits – Churpi Durka removes plaque and tartar and keeps gums strong and healthy
Supports and maintains muscle mass – Due to Churpi's protein content containing all 10 essential amino acids, dogs enjoy a good balance of absorbable protein and healthy fat (2-4%) for maintaining a strong body and proper energy levels.
Long Lasting –  if you chose the right size churpi to minimize leverage (the largest piece that is comfortable in your dogs mouth), Churpi Durka will last for hours.  Size is very important as to the longevity of the chew.
The most exciting bit of information for me was that Churpi Durka is an excellent source of Zinc containing 25% of daily value in 30g (1oz/ with average chew weight being 5-6oz). Zinc increases immunity, is a powerful antioxidant, contributes to healthy coats and keeps paw pads moist to prevent cracking. Great for show dogs, working dogs and dogs with allergies, zinc is a natural relief from skin issues. And as any Husky parent is well aware, Nordic breeds commonly suffer from Zinc deficiency and finding foods high in zinc (or using supplements) is necessary for keeping these dogs healthy.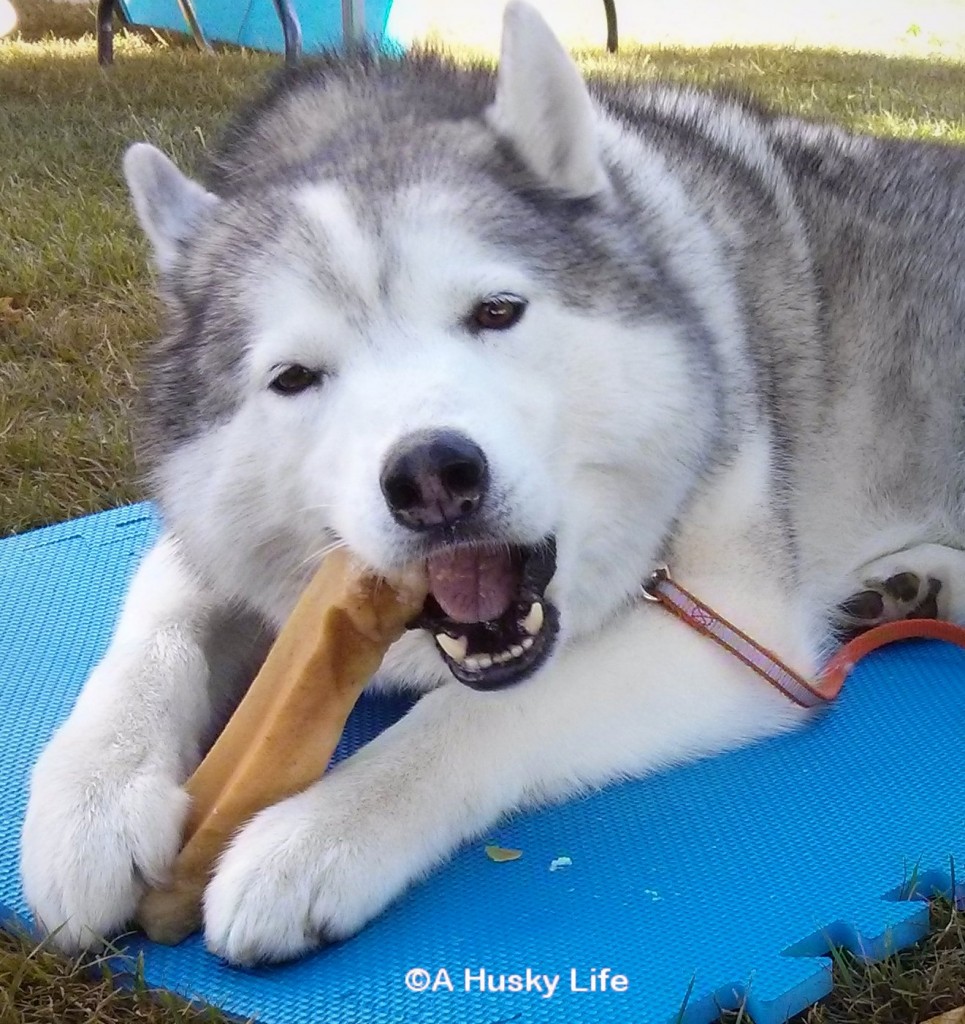 Sadly, Rocco's teeth are badly worn down due to months spent chewing on chain and metal crate before coming to live with us, so he can't spend too much time working on a hard chew. I was very excited to find out that Churpi Durka also comes in the form of a food topper! The powder contains all the nutritional benefits of the chew, but in a softer and easier to ration out form.
The grated form has the same irresistable smell and taste that Rocco goes crazy for!