Stretching is a healthy way to release muscular tension, maintain joint health and mobility and warm up before exercise.
If you watch your dog closely, you will notice that they always stretch after getting up from a nap. They do a deep bow, downward dog, and often will also stretch their groin and hind legs by kicking them out behind them. You can also find them stretching while laying down, either by reaching their paws out and lengthening through their spine or by curling their spine in and touching their front with their hind paws. These stretches are very important and worth encouraging. It is rare, however, for a dog to stretch their sides.
How to do side stretches with your dog:
ask you dog to stand
stand at your dog's side and encourage them with a treat or a toy.
once you lured them into position, hold for a few seconds and then reward them with the treat or toy.
start slow, at first you might only get them to turn their head, don't worry, with repetition you will be able to encourage them to go into a deeper stretch
if they are too excited, don't hold or force the stretch, but also don't reward it; reserve your reward for when your dog calmly holds the stretch for at least couple seconds, each time try to ask to hold a little longer.
Here is what a side stretch should look like: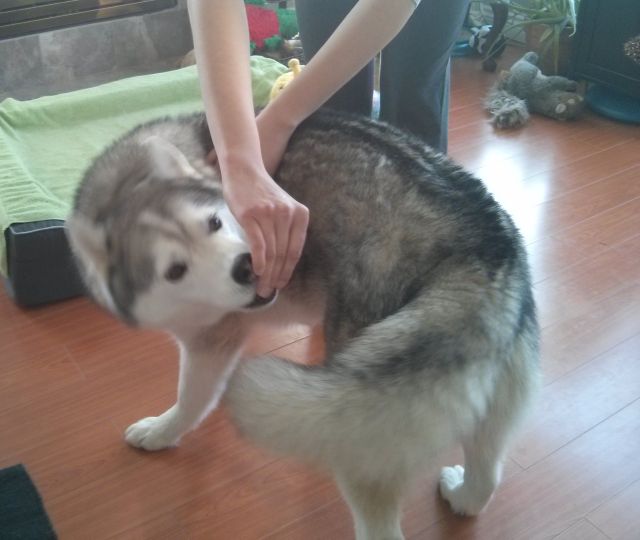 So how do you go about teaching a side stretch? The most important thing about stretching is to keep in mind that the dog has to be calm and hold the stretch for at least 15 seconds. Start slow, encourage your dog into the stretch, never force or push them into it.
Guiding you dog through side stretches will have many benefits:
teaches the brain and muscles a new movement pattern
makes your dog more aware of their body which can help prevent injuries
great for warm ups and cool downs
improves mobility and range of motion by lengthening muscles
releases tension along the neck, shoulder, intercostals, along the spinal column and abdomen
improves balance and coordination